4 Daily Teeth Mistakes You Don't Know You're Making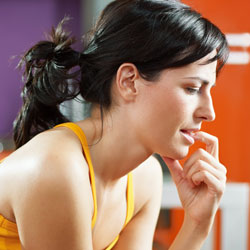 So, you think you take perfectly good care of your teeth? If you can make it through this list without feeling guilty and brush and floss regularly, consider your oral health in tip-top shape!
Smoking. Cigarettes lead to bad breath, discol[o]ration and a higher risk of oral cancer. More so, the popular alternative known as vaping is still harmful to your mouth as nicotine restricts blood flow to the gums.
Nervous biting. Chewing pencils or our nails may not be something we easily recogni[z]e as bad for our teeth, but it can weaken or even chip them. Opt for a stress ball instead.
Do you have proper tongue posture? Your tongue should naturally rest on the roof of your mouth. If not, you could be over clenching and grinding your teeth.
Eating dried fruit. Though we often think of fruit as healthy, certain dried fruits can be packed full of sugar—like raisins.
Navigating At-Home Teeth Whitening
Having straight teeth can improve your confidence and bite, but giving your smile a col[o]r boost with at-home whitening products is now easier than ever before. The catch? With so many options and different ingredients, how can you be sure you're choosing the right product?
The next time you venture to your local supermarket or pharmacy in search of a product to brighten your smile, be sure to look for the ADA's seal of approval, which can be found on toothpastes, mouth rinses and other oral health products. When a product bears this seal, you'll know that you're choosing a product that has been endorsed by dental professionals.
Over-the-counter teeth whitening products can help you achieve a noticeable smile improvement, but will not be as powerful as in–practice treatments. If you're considering safe and effective professional teeth whitening, ask us about the best options at your next visit.