ABOUT SMILE HOUSE
Smile House Dental clinic has now been established for several years in the beautiful bayside suburb of Black Rock.
Having met while attending dental school, Ali and Siamak had been on their path to completing their Dental Degrees.  Then, they both embarked on their exhilarating journey to move Australia to pursue their dreams and continue their dental career.  Ali did so in 2008, with Siamak following in 2012.  After further discussion, realizing they both wanted to have a private dental practice, they decided it would be a fantastic idea to own their own dental clinic in Black Rock.
Ali is married to Elly, with 2 children.  The eldest daughter, Celina, is in school in the local area and their son, Liam, is just over 2 years old ; they also like to walk their dog in local parks along the foreshore and enjoy the delights of what bayside living has to offer. Ali also enjoys swimming, hiking and in his free time playing Chess.
Siamak is a very energetic man, working out at the gym, running along the beach, and playing badminton, table tennis, and tennis, among his hobbies.  He is also an enthusiastic photographer and is eager to learn to play the guitar.
The clinic itself is in a great location, with plenty of parking available, in the beautiful beach-side suburb of Black Rock, just a few doors up from the Sandringham Community Hospital, and is close to many schools, both private and public, beaches, and the Black Rock shopping strip.
Our clinic has an experienced dental team who focuses on the comfort and care of our patients while providing excellent, optimum dental treatments in various services available.
We provide late-hour services and Saturday Opening Hours to help our clientele, who find it difficult to come during the week or during normal working hours for their dental appointments.
We feel blessed to have such a supportive, caring community around us, we love to engage ourselves in our Bayside local community events.
Our Philosophy

We want you to experience dental care in a comfortable, relaxing environment. Smile House is chosen to represent this idea because we think you should feel comfortable and at home when you receive your dental care.

We offer more than your average dental clinic – a warm ambience throughout the practice that feels inviting and is far from the typical office setting. You'll feel calm and at ease from the moment you step in.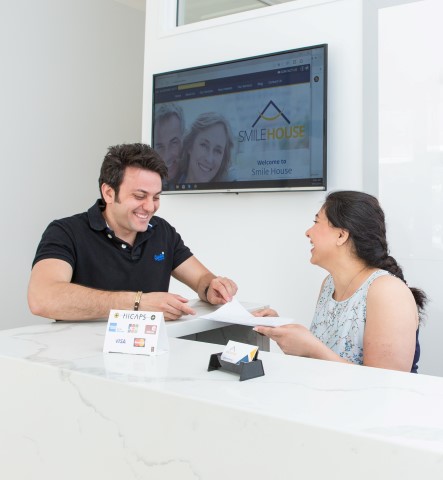 We offer same-day appointments during the week and Saturday visits to stay flexible with your schedule.  Late evening is available on Thursdays and Fridays. Find out more about what we can do to improve your entire family's level of oral health.
Whether you need a general dental checkup or a more complex cosmetic procedure, Smile House can help. We offer on-the-spot HICAPS processing and tailored treatment plans to suit your budget and lifestyle. We can provide you with information about payment plans if required.
Contact our friendly, welcoming team today!
---
Smile House | (03) 8521 0777