ORTHODONTIC AND BRACES SERVICES
Have you ever looked in the mirror and wished your teeth were perfectly straight? Perhaps you have a child whose teeth are crowded, or their bite doesn't quite line up as it should. There are many reasons people get braces. At Smile House, our dentist Dr Ali Sefidroodi is skilled in Orthodontic  Services and can assist in moving your teeth into their correct position and alignment.
If you think you or your child may benefit from orthodontic treatment, we encourage you to schedule an appointment to learn more about your orthodontic options from our experienced team.  Sometimes with early intervention in orthodontic treatment, may save you in cost in the future and when they are older.
What orthodontic systems do you use?
There are different orthodontic options we offer, used depending on your goals, needs and budget:
Accelerated orthodontics
Early orthodontics
The Damon™ System
Traditional braces (white brackets available)
Accelerated Orthodontics
With a vibratory device used each day, you can speed your results to quickly achieve the aligned teeth you desire.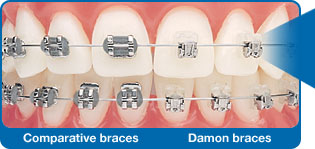 Early Orthodontics
This preventative treatment can prevent your child from requiring later treatment or can reduce the amount of orthodontic treatment they'll require later in life.
The Damon™ System
This advanced system uses brackets that are lighter, causing less pressure and giving quicker results than some other orthodontic options.
Traditional Braces
The metal braces used by so many people are still a popular choice in straightening teeth, with effective, predictable outcomes. White brackets are available that make your braces less noticeable.
Emphasising Early Prevention
Up to 20% of people who need braces would have benefited from receiving treatment earlier in life. Commonly, we wait for our children to develop a problem before seeking a solution, but we promote the importance of catching such issues as early as possible.
Your child's first consultation can happen at age 8. With early treatment options used around this time, your child will require less invasive orthodontics later on. If left untreated, they may need extraction or surgery before they can proceed with treatment.
There are many simple fixes we can offer, such as shaping a baby tooth or addressing crowding.
Keeping Dental Care Affordable

In addition to accepting all health funds and processing them on-site with HICAPS, we offer payment plans so that you can get the dental healthcare you need. Plans with 0% financing are available through MacCredit and MySmilePlan®.

Contact us today to discuss improving your smile with orthodontics in Black Rock or to book your first appointment!